Company Overview

Began as a U.S. factory headquartered in Southern California, we were established to support distribution centers and retail tea shops in both the United States and Canada. After being in business for a short time since, we then became a full scale independently labeled tea manufacturer and have now focused completely on domestic and international businesses. Our North American headquarter has been in operation since 1988. Currently, our tea products can be found on the shelves of many national retailers as well as direct tea distributors in both the United States and Canada.


---
Our Specialty
Green Teas, both traditional and flavored, has been our number one selling product for many years. We are the first tea manufacturer to introduce green tea into the North American market and have since been playing an important role in the manufacturing of quality green teas in the tea market both domestic and abroad. In recent years, we have also begun to introduce of a variety of high quality teas beyond green teas and herbal teas, such as White Teas, Oolong Teas, Black Teas and even Pu-erh Teas. When it comes to specialty teas, we are also known for our delicious Simply Delicious Teas, both hot and iced, fruity fragrance flavored black tea blends, and a complete line of popular dieter teas called Body Slim Dieter Teas. Our various dieter teas are both effective and tasty, which has been extremely popular since introduction. Pursuing the excellence of tea manufacturing and responding to market demand, we began our own line of Organic Chai which comes in four unique flavors as well as all 100% organic ingredients. The popularity of our Organic Chai has proven that we have successfully established a great line of tea products to our family of teas enjoyed by many consumers worldwide. Our Chai has its own uniqueness for which many Chai lovers enjoy. For the value-minded consumers, we also began production on the line of Legends of China tea series that comes in several different flavors and versions - original green tea, jasmine green tea, white tea, oolong tea, and also available in organic green, black or white tea versions. They contain the same great green, black and white tea leaves in a much valued form of packaging ranging from 40 to 100 bags per box. In recent years, we have been very excited to introduce a brand new line of Organic Bamboo Teas, bringing the great benefits that bamboo leaves have to offer. Most of our tea products are in the form of tea bags which can be easily prepared. We also carry a variety line of Loose Teas (traditional bagless loose leaves) products for the serious tea drinker with the proper tea equipment.


---
Quality Control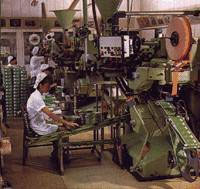 When it comes to tea manufacturing, the word "quality" is our number one priority. To set ourselves apart from competition, we carry on the tradition of Ten Ren's tea quality without sacrificing packaging of tea bags. Our conservative view of tea manufacturing has been constantly reminding us to only bring the best products to the consumers. Don't just take our words for it, our products are always 100% Star-K "Kosher" certified for quality and freshness -- click here to verify.
Our manufacturing practices are based on one simple principal -- quality before quantity. We incorporate advanced machinery technology and follow the highest standards when it comes to preparing our teas into tea bags. We always utilize the best method of transportation to move our teas from our plantations to ensure 100% freshness when they arrive.
We have a wide distribution in both health food stores and mainstream markets across the United States and in Canada. We also do a large export and Private Label/Manufacture Facility business for both domestic and the overseas markets throughout the world.